Dr. Shukan C. Kanuga
Education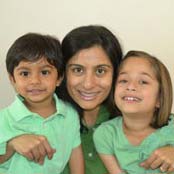 Dr. Shukan Kanuga completed her Pediatric Dentistry training with a MSD degree from one of the most esteemed programs at the University of Washington, Seattle. She started as a dentist in her home country, India, before coming to the US in 2002. In addition, she received her DDS at the University of California, Los Angeles. From there she continued her training in a General Practice Residency in Downey, CA.
Training
With 10 years of training in dentistry under her belt, Dr. Kanuga excels in managing and treating children from 0 to 18 years of age; both typically developing and children with special health care needs and disabilities.
Personal and Professional
She lives in the San Fernando Valley with her husband and her two children.
Dr. Kanuga is an active member of several professional organizations including AAPD, Southern CA Society of Dentistry for Children, ADA, CDA, and serves on the peer review committee of the CSPD. She is a part-time faculty at the UCLA School of Dentistry.
Dr. Kanuga was recently selected by ADA as one of the 100 dentists in the US to be an Evidence Based Dentistry Champion in Chicago.
Dr. Kanuga has published in scientific journals and state, local dental society and community newsletters.
She volunteers her time doing oral health talks to preschools, screening and educating the underserved children in the community and reaching out to the community with articles on oral health.
In her leisure time she enjoys cooking, reading, and spending time with her friends and family and traveling.