Incorporating Technology: Digital Scanner
By: Talia Ahoubim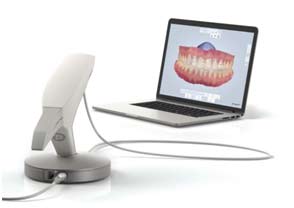 What Is It?
We live in a world where technology is constantly evolving, and Dr. Sharon prioritizes staying up to date with these technological advancements in dentistry. At Sweet Tooth Dental Center, we use a 3-Shape Digital Scanner, which is one of the best intraoral scanners available. This scanner represents innovation, as it is both a comfortable and efficient device used to capture impressions, without the need for the impression material of the past.
Benefits
The benefits of this scanner that Dr. Sharon has incorporated in our office include, but are not limited to the following:
Increased Productivity: These scanners create digital impressions in a more efficient and timely matter. Rather than having to put up with a tray full of bad tasting gooey material placed into the mouth to capture the impression, this process can now be done digitally. This process will not only require less time, but will also be more accurate.
Increased Patient Satisfaction: Because these scanners are both comfortable and accurate, our patients at Sweet Tooth appreciate and prefer this new method of innovation.
Accuracy: Sharon uses a scanner that produces accurate digital images, which in turn greatly help our dental lab to generate the desired outcome for our patients.
Ability to Collaborate: By using a digital scanner, Dr. Sharon is able to collaborate and communicate more effectively with both our lab and our patients in order to achieve the desired result of a specific dental treatment. This is due to the accurate and comprehensive digital files that these scanners are able to produce.
What We Use This for
Our digital scanner has become Dr. Sharon's right hand in the office, and below are just a few examples of how he regularly uses the 3- Shape Digital Scanner:
Orthodontics: Sharon uses our digital scanner to generate images of what our patients' expected outcomes will be prior to Invisalign treatment or any other clear aligner therapy. In other words, rather than having to wait to see the end results, patients can know what to expect and look forward to before starting the case. This can be done with a quick scan before any treatment has even begun.
Smile Design: An individual's smile is one of the most important features about him or her. At Sweet Tooth Dental Center, Dr. Sharon strives to achieve an esthetic smile, and he does so with the aid of 3-Shape Smile Design. Specifically, Dr. Sharon scans a patient's teeth and within a few minutes we can get a digital wax up showing up what your smile would look like with a smile makeover using veneers and crowns to correct discolored and unaesthetic teeth. The advantage is that it allows patients to better visualize what their smile will look like before any changes are made.
Set up a dental appointment with Dr. Sharon today!