Dr. Sharon Shamoiel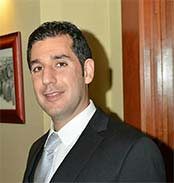 Dr. Sharon Shamoiel was raised in the San Fernando Valley. He attended UCLA, and graduated with a Bachelor of Science in Biology. After graduating, Dr. Shamoiel decided to broaden his horizon. He was admitted to the prestigious dental school at Boston University. He later continued his education and completed a one year residency at St. Barnabas Hospital. During his residency he gained valuable experience in cosmetic dentistry, laser dentistry, and many other aspects of dentistry.
He has been practicing in New York since the completion of his residency, treating patients in Manhattan and Queens. During this time, he has taken many advanced courses in Endodontic Treatment (Root Canals), Surgical Procedures, and Cosmetic Dentistry.
Dr. Sharon Shamoiel established Sweet Tooth Dental Center with this philosophy of delivering patients excellent dental care while making them feel at home and relaxed. After years of seeing firsthand how a bad dental experience can create a dental phobia, discouraging patients from seeking dental treatment, he practices dentistry with the intention of understanding each patient and taking care of their individual needs.