Invisalign

Good dental hygiene and a properly aligned bite can be some of the most important factors in a healthy smile. When your teeth and jaws are properly aligned, your mouth will function properly. Your jaw joints will experience less stress, and your teeth are less likely to be excessively worn or damaged. Your teeth will be easier to clean and maintain, and your smile will be more attractive. If you have closely spaced teeth, gapped teeth, crooked teeth or a maloccluded bite, our Thousand Oaks Invisalign provider can help.
Our expert in Invisalign in Thousand Oaks can help you determine if you are a candidate for Invisalign. The best candidates for Invisalign have teeth with mild or moderate bite, spacing or alignment issues. Treatment is most appropriate for older teens and adults who can comply with the treatment requirements. Patients should be committed to maintaining good dental hygiene during and after the treatment process.
Invisalign in Thousand Oaks
Invisalign moves teeth using not metal brackets or wires but clear plastic aligners. These aligners are designed like mouth guards and are made to fit your teeth precisely. Each aligner is made according to your pre-determined treatment plan and will gently move your teeth over a period of a year to 18 months. Because you will have greater control over your own treatment experience, you will change your aligners every two weeks and have fewer orthodontic appointments to squeeze into your schedule.
Case Study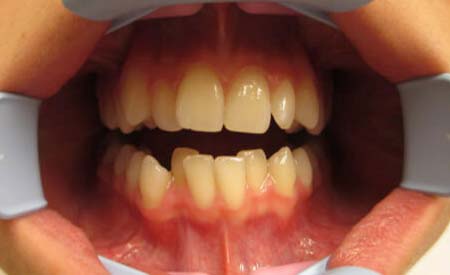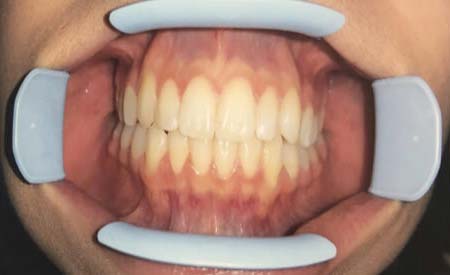 Description: 16 year old female patient with chief complaint of crowding, poor function, and misaligned teeth. For treatment, this patient had Invisalign treatment for 58 weeks and minor IPR (shaving between the teeth) to alleviate spacing issues.
Convenience is only one of the benefits Invisalign offers, however. Many patients of our Thousand Oaks Invisalign provider appreciate the appearance of Invisalign. The aligners are virtually invisible when worn, which means that your entire treatment can be more private. Additionally, the removable nature of the aligners means that you will not have to alter your diet. Simply remove your aligners before eating, and then brush and floss thoroughly before replacing the aligners.
If you are interested in a straighter, healthier smile, our expert in Invisalign in Thousand Oaks can help. Contact our dental office today to learn more or to schedule a consultation with Dr. Sharon Shamoiel, our cosmetic dentist in Thousand Oaks.
Schedule a Consultation